The Account & Relationship Mapping Application
Improve your sales qualification, forecasting, and conversions with Buyer Relationship Management to plan and manage your opportunity engagements.
Complement CRM. Get BRM
If you knew more about your prospects would you be more
effective selling to them? Of course you would.
Boxxstep BRM helps you to capture, manage, share and use prospect business drivers and buyer team information.
IDENTIFY
Individuals involved in the process and their roles
UNDERSTAND
What's important to the business and the buyer team
VISUALISE
The buyer team roles & structure
COLLABORATE
Share & Review Opportunity information
PLAN
Objectives, Tasks and Steps you need to complete
What, Why, When, How and Who?
Know More. Do More. Close More.
Boxxstep Buyer Relationship Management – Prospect business problems, needs and decision making processes
MOTIVE
What is the reason/goal
driving the investment?
URGENCY
What is the urgency to
complete the goal/project?
RETURN
What is the outcome the
investment must produce?
CONSEQUENCES
What happens if the
project does not proceed?
NEEDS
What are their
business needs?
PROCESS
What is the decision making
process and timings?
OBJECTIVES
What are the objectives
you want to achieve?
VALUE
What business value do
you bring to this prospect?
There's an average of 7 people involved in a B2B decision making process
Boxxstep Buyer Relationship Management helps you to understand and manage each of them
CHALLENGES
What challenges do
they face?
CRITERIA
What criteria will
they base their decision /
recommendation on?
CONCERNS
What are their investment
/ project concerns?
INSIGHT
What Insight have you provided
to help this contact?
STYLE
What is their
business style?
INFORMATION
What level of information
do they prefer?
PREFERENCE
Who would they
prefer to win the deal?
COMPETITORS
What are their views
on your competitors?
Make your sales team more Performant, Productive and Predictable
Don't just enter prospect data into a box, plan and take action
Set or Assign Opportunity Objectives
Plan your objectives that will enable you to reach your goals, or assign them to teams members.
Set or Assign Opportunity Tasks
Plan your Tasks that will enable you to achieve your Objectives, or assign them to team members.
Plan the Steps you need to take to improve your position with each contact.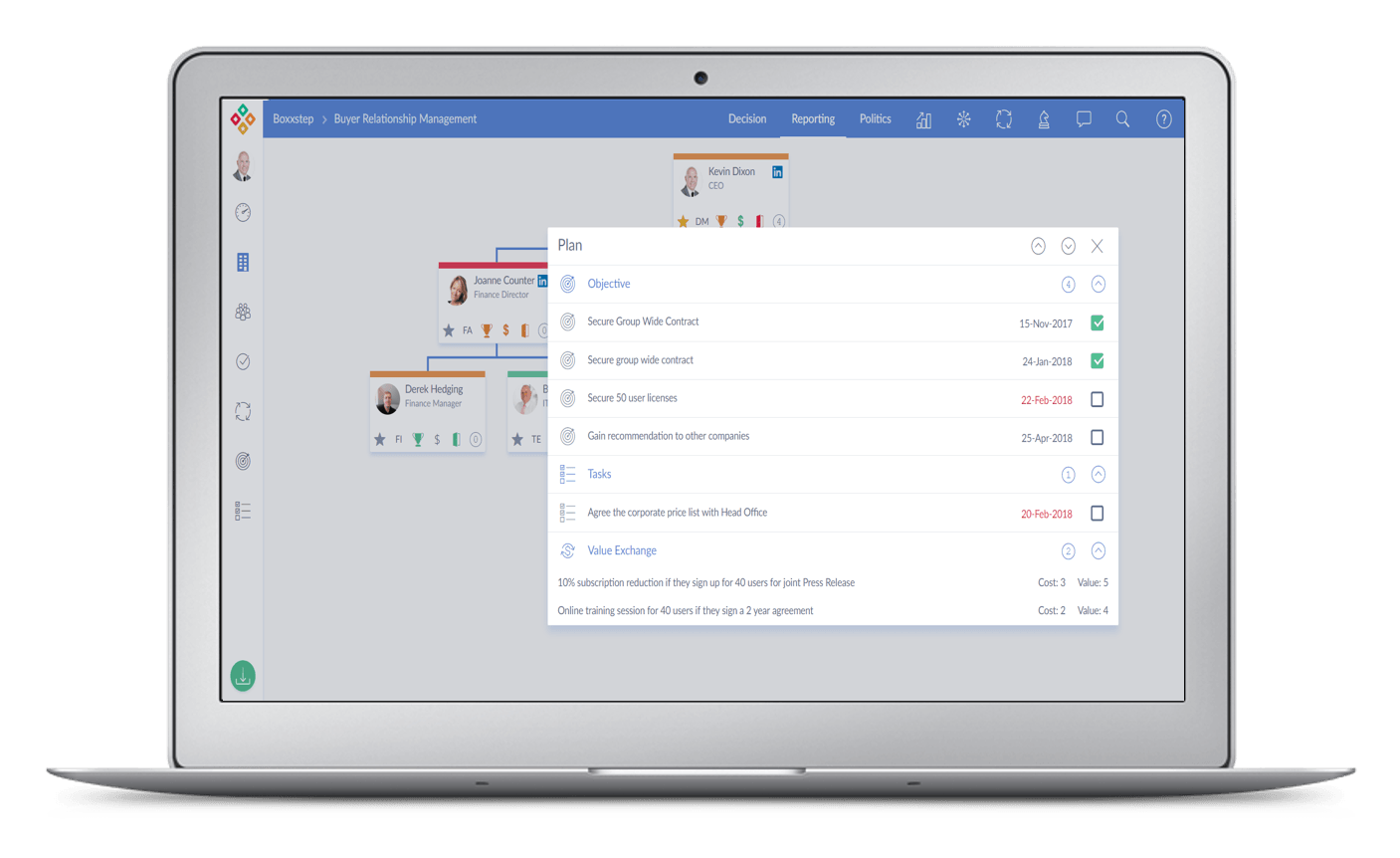 Sales people fail to identify everyone involved in the approval and decision making process
&
Sales people do not understand the decision process and timings
of deals lost due to misalignment with decision makers
of customers believe sales people do not understand their needs
A summary of your buyer contact relationships and activities and what's due to be completed this week.
Our contact cards summarise high level relationship information
Not enough sales people understand how and why their prospects buy, and how to sell to them.
Don't be one of them, sign up for a free account
BRM – Created by sales people for sales people
Buyer Relationship Management – A sales tool that you will happily use
Sales people hate doing stuff they think only helps others. You'll  love Boxxstep, as you can see how it will help you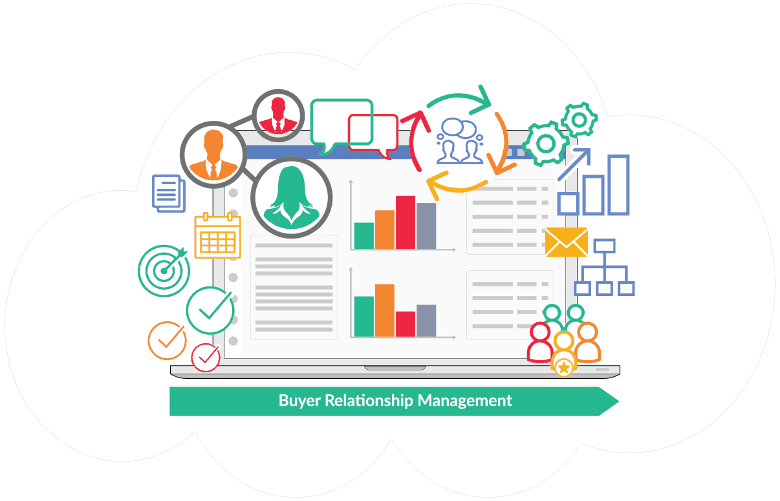 3 important reasons to help you decide
Useful – Easy – Free
Boxxstep Buyer Relationship Management helps you to be more successful selling to your prospects, it's intuitively easy to use, and to cap it off the Standard solution is free. How good is that?
Not just another data entry tool
We add value to your selling time, not take away from it
Don't worry, its not admin for the sake of admin. Smart sales professionals know what they need to know about their prospects. Even smarter sales professionals organise it in a way they can use it.
What you get with Boxxstep
Dashboard
See the status of your contact relationships,
at the same time as any next steps that are due
Companies
Add or import companies in order to manage them for better account planning
Opportunities
Track the important sales drivers in each opportunity that you create
Contacts
Track the important information about each contact in the buying process
Steps
Set the steps you, or a team member, need to take with each contact to improve your chances of success
Decision Process
Capture and track a prospects decisions and their buying process
Objectives
Set, track and manage your objectives and tasks for each opportunity
Relationship Maps
View as a PDF and download decision making roles, reporting lines and political landscape org charts
Account Plans
Generate an opportunity plan, including relationship maps and summaries of all the important information
Share
Share access to your Information with management and colleagues
Comment
Make comments on opportunities and your team sales strategies for them
SWOT Analysis
Create a Strengths, Weaknesses, Opportunities and Threats table for the account
Sync
Sync reminders from Boxxstep BRM with your Office 365 or Google Calendars